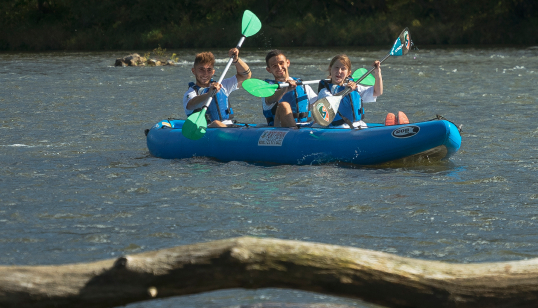 Rafting on the Dunajec
Kayaks for 1, 2 & 3 people
Rafts for 2-12 people
3h
Bus ride + rafting
Rafting or kayaking (Sromowce – Szczawnica - 15,5 km, duration of rafting about 2 h + travel and preparation). The Dunajec River Gorge is the first and most beautiful stage of exploring this river and the surrounding Pieniny mountain range. You will be transported to the start of the rafting trip by our bus.
6h 30m
Hiking + rafting
You start the Dunajec rafting trip on foot from Szczawnica. The most popular route is Sromowce - Szczawnica, the length of which is roughly 15 km, rafting time is about 2 h.
4h
Biking + rafting
The adventure begins at 149 Główna Street in Szczawnica, from where you will pick up your bike and take it to the start of the Dunajec rafting trip, where you will board a raft or a kayak, depending on the selected option. You can choose any bike from our offer.
Rafting with an instructor is available
Book now!
Navigate